Dear friends of Ginza Sushi Ichi,
Please ensure that all parties are fully vaccinated, medically certified to be exempted from vaccination and adhere to prevailing Safe Management Measures. Any unvaccinated guests detected by the authorities during routine checks will be asked to leave our restaurant immediately. Kindly note that any ejected guests will still be required to pay for the ordered meal course in full.
With effect from 20 July 2022, any reservations with 5 pax and above will be required to pre-order and place a full deposit before the booking will be confirmed on our end. The deposit will be in the form of an authorisation hold on the credit or debit card of choice. A charge will be made to the selected credit or debit card according to our cancellation policy as follows:
Cancellations made 4 days and beyond booking date – No charges incurred
Cancellations made 3 days away from booking date – 50% deposit forfeit
Cancellations made 2 days away from booking date – 100% deposit forfeit
Last-minute cancellations and no show – 100% deposit forfeit
Due to the overwhelming response, we will suspend online reservations till further notice. For reservation enquiries, please connect with us through the following avenues:
Telephone: +65 6235 5514
WhatsApp: +65 8878 1250 (Text only)
We look forward to welcoming you to Ginza Sushi Ichi.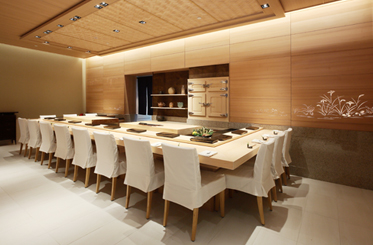 Location
Singapore Marriott Tang Plaza Hotel
320 Orchard Road, Singapore 238865
Open
Lunch: 12:30 – 14:30
(Last Searing 13:45, Last Order 14:00)
Dinner: 18:30 – 23:00
(Last Seating 20:30, Last Order 21:30)
Dinner (Sunday): 18:30 – 22:00
(Last Seating 19:45, Last Order 20:30)
Closed
Monday
TEL
+65-6235-5514
We welcome children over the age of 6





September 2022
日
月
火
水
木
金
土
1
2
3
4
5
6
7
8
9
10
11
12
13
14
15
16
17
18
19
20
21
22
23
24
25
26
27
28
29
30
October 2022
日
月
火
水
木
金
土
1
2
3
4
5
6
7
8
9
10
11
12
13
14
15
16
17
18
19
20
21
22
23
24
25
26
27
28
29
30
31
November 2022
日
月
火
水
木
金
土
1
2
3
4
5
6
7
8
9
10
11
12
13
14
15
16
17
18
19
20
21
22
23
24
25
26
27
28
29
30
31
December 2022
日
月
火
水
木
金
土
1
2
3
4
5
6
7
8
9
10
11
12
13
14
15
16
17
18
19
20
21
22
23
24
25
26
27
28
29
30
31